You want to discover the streets of Sri Lanka? Then welcome to our website. We provide many options to go on a road trip in this beautiful country. Exploring the island by Car, Van, Scooter or Tuk Tuk is a unique experience. You are 100% free and independent to do what you have planned and to go where ever you want.
Tailor-made Private Driver Tours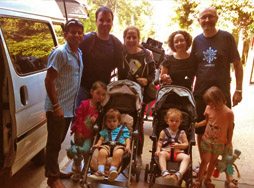 Travelling with us is fully flexible. You can design your own itinerary or use one of our suggestions. We can design a trip for you that will suit your schedule, your budget and your interests. We are pleased to welcome groups of any size…
READ MORE
Vehicle Rental
We are proud to have a modern and a well maintained fleet of vehicles including Cars, Vans, Scooters and Tuk Tuks. They will make you feel comfortable on the Sri Lankan roads…
READ MORE
Accommodations
Dileep, the owner of Sri Lanka Roadtrip is also running the guest house D-Villa 2 in Negombo. It is very close to the airport which is what makes it the perfect place to start your road trip after a tiring flight…
FOR MORE INFORMATION VISIT BOOKING.COM
DO YOU HAVE QUESTIONS?
Then don't hesitate and contact us.
TO CONTACT FORM