It's fun! Rent a Scooter with us and explore Sri Lanka on two wheels.
You are an experienced scooter driver or want to learn? Why not rent a scooter in Sri Lanka to go on a road trip. We offer powerful scooters to rent.




Why choosing us to rent a scooter?
We offer safe and powerful scooters. You will have no problem driving up a mountain or on difficult roads. The top speed of your scooter is at approximately 80 km/h.
No kilometer limit. Most of the Scooter rental companies have a day limit like 100 km/day. With our Scooters you can drive as far as you want without additional costs.
Flexible renting days. You can book our scooters from one day up to several weeks.
You want to drive a scooter but don't want to book the accommodation in different cities by yourself? We offer Scooter rental in combination with hotels and guest houses.
If you want to book a hotel or hostel by yourself we have some accommodation recommendations. You can find it on this website at "Where to stay" 
Scooter Rental Prices
We will charge a deposit of 100 USD. You will get it back after returning the scooter.
FAQ:
What driving licence do I need in Sri Lanka?
To drive a scooter or tuktuk in Sri Lanka you need additonally to your international driving licence or home country driving licence a Sri Lankan driving permission. You get this at Department of Motor Traffic in Colombo. It costs arount 25 USD and takes about 3-4 hours.
We offer you to organise the driving permission, the costs are then 45 USD (including the costs for the driving permission)
Where to find the Department of Motor Traffic in Colombo:
There are two different Department of Motor Traffic (DMT) offices in Colombo. One is in the city itself, and the larger one (the one you NEED) is located in BORALESGAMUWA. HERE is the Google Maps Link.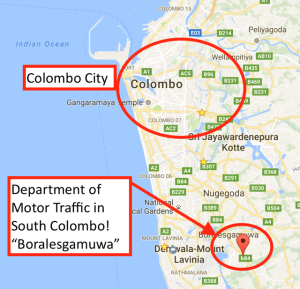 Where do I have to pick up and drop off the Scooter?
You can pick up the Scooter at the Airport, Negombo or Colombo. You can drop off the Scooter again also at the Airport, Negombo or Colombo. A pick up / drop off in another city is not possible.
When do I have to pay for the Scooter and with which currency?
You have to pay the full amout of the renting price + deposit when you pick up the Scooter. It can be payed in USD or Sri Lankan rupees.
Is the helmet included?
Yes, the helmet is included, you don't have to pay an extra fee.
Interested in renting a scooter?
Then send a mail to info@srilanka-roadtrip.com or use our contact form.
We will check availability and make you an offer.
TO CONTACT FORM
HOTEL RECOMMENDATIONS
OTHER RENTAL OPTIONS