Welcome to Sri Lanka Roadtrip! We offer high quality Scooter Rental, Tuk Tuk Rental, and Private Driver Tours for your roadtrip experience. If you want to explore the island on two or four wheels you are totally right here. Book now.
Sri Lanka is a perfect country for traveling with a scooter or motorbike. Most of the roads are in good condition and it's not a big country so you can get around all over the island easily. But different than in other asian countries you need a special driving permit for Sri Lanka. See below for more informations.
ABOUT SRI LANKA ROADTRIP
Sri Lanka Roadtrip is the result of a good friendship. I'm Tanja from Europe and I'm the owner of this website. I felt in love with this little country when I visited it the first time. I'm a passionate traveller and want to give others the opportunity to have a great roadtrip here as well. Shiran from Sri Lanka is an experienced tour operator, owner of Sri Lanka Travel Partner and a good friend of mine. He will organize everything for your rental.
FAQ SCOOTER RENTAL
What driving licence do I need in Sri Lanka?
To drive a scooter or tuktuk in Sri Lanka you need additonally to your international driving licence or home country driving licence a Sri Lankan driving permission. You get this at Department of Motor Traffic in Colombo. It costs arount 30 USD and takes about 3-4 hours.
We offer you to organise the driving permission, the costs are then 50 USD (including the costs for the driving permission)
Where to find the Department of Motor Traffic in Colombo:
There are two different Department of Motor Traffic (DMT) offices in Colombo. One is in the city itself, and the larger one (the one you NEED) is located in BORALESGAMUWA. HERE is the Google Maps Link.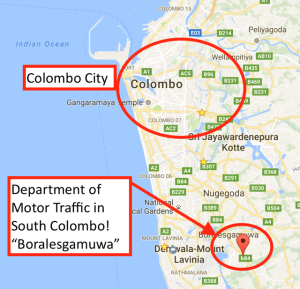 Where do I have to pick up and drop off the Scooter?
You can pick up the Scooter at the Airport, Negombo or Colombo. You can drop off the Scooter again also at the Airport, Negombo or Colombo. A pick up / drop off in another city is not possible.
When do I have to pay for the Scooter and with which currency?
You have to pay the full amout of the renting price + deposit when you pick up the Scooter. It can be payed in USD or Sri Lankan rupees.
Is the helmet included?
Yes, the helmet is included (even two if needed), you don't have to pay an extra fee.
Interested in renting a scooter?
Then send a mail to info@srilanka-roadtrip.com or use our contact form.
We will check availability and make you an offer.
HOTEL RECOMMENDATIONS
OTHER RENTAL OPTIONS