Sri Lanka Roadtrip is an international travel website. Tourists can rent scooters and motorbikes or hire a private driver for their Sri Lanka family trip. We also provide accommodation tips on our website. We offer you to become a hotel partner. You can increase your bookings and promote your business for free.
Our hotel partnership is made for hotel, hostel or guest house owners. We want to give our website visitors high-quality recommendations for their stay in Sri Lanka. We just promote top-rated accommodations.
WHAT WE OFFER TO HOTEL PARTNERS
If you got an invitation to our partner programm we want to promote your accommodation on our website. We have different categories from Low Budget to Luxury Class. We will write an article about your house and link to your booking.com page. You don't have to pay for the promotion on our website, it's for free.
↓ Screenshot of a hotel recommendation on www.srilanka-roadtrip.com ↓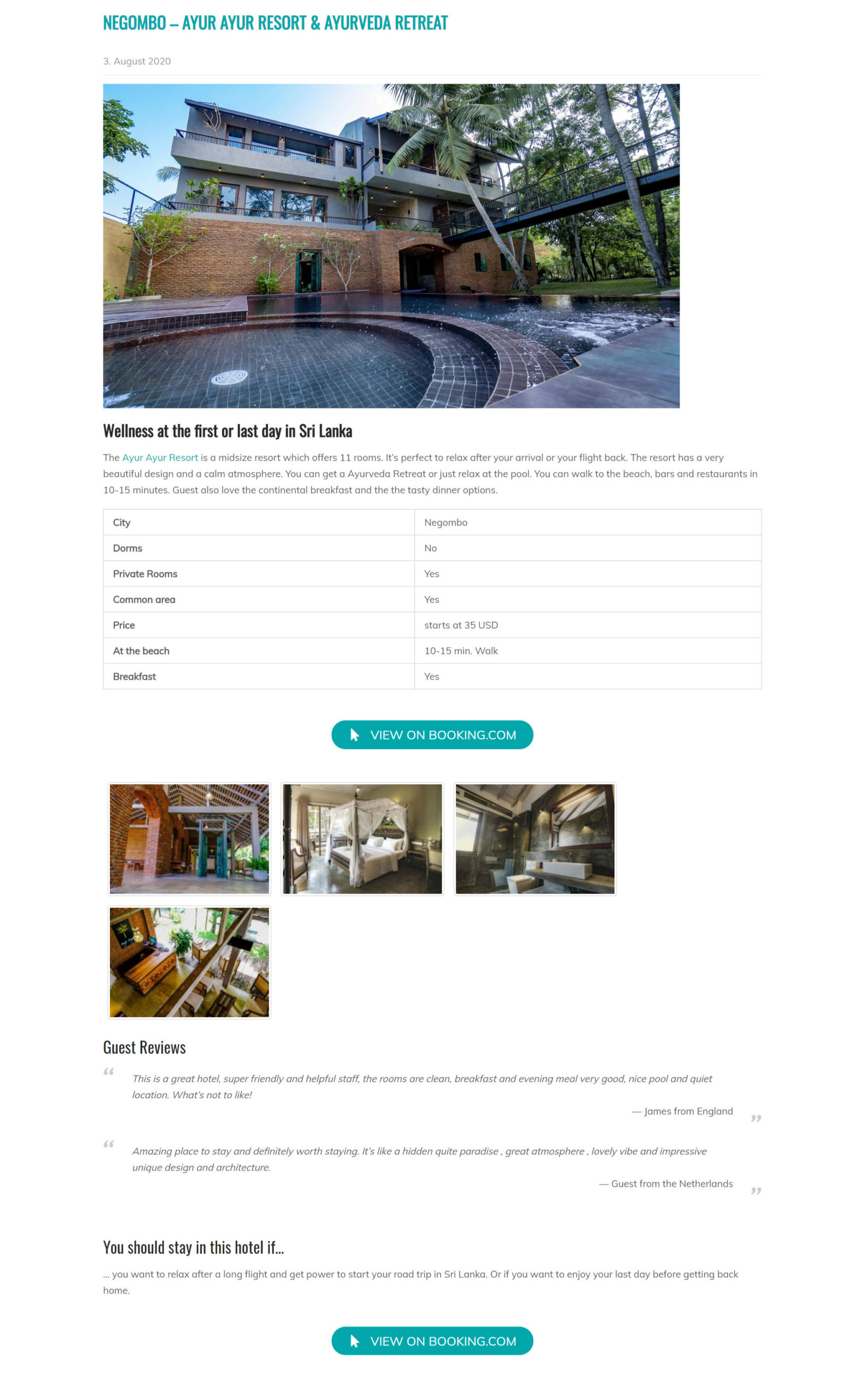 WHAT WE WANT FROM YOU
The article on our website is for free. You don't have to pay any money for it. The price for promoting your hotel, hostel or guest house is a link from your website. Place a link to srilanka-roadtrip.com somewhere on your website. It must not be obvious. It can be on a pages with less or no traffic. If you don't know how to do it we are happy to help you.
1 "DO FOLLOW" LINK ON YOUR WEBSITE
PLACE IT SOMEWHERE ON YOUR WEBSITE
NO TEXT NEEDED, JUST A LINK
YOU DON'T HAVE A WEBSITE?
If can't place a link because you don't have a website, it is no problem. Contact us anyway. We will find a way to get you the free promotion.
WHAT YOU CAN ALSO DO (OPTIONAL)
Placing a link to our website is mandatory for getting the article. But if you like you can promote our website content.
Example Content: https://srilanka-roadtrip.com/rent-a-scooter/how-to-drive-a-scooter/
Share the article on your Facebook or Instagram Account. It's free content and you give your guest an extra value. It's just an offer, not mandatory.
BECOME A PARTNER
You are interested and want to be partner? Contact us to speak about the details. You have questions? We are happy to answer it.